THEME: PORT CITIES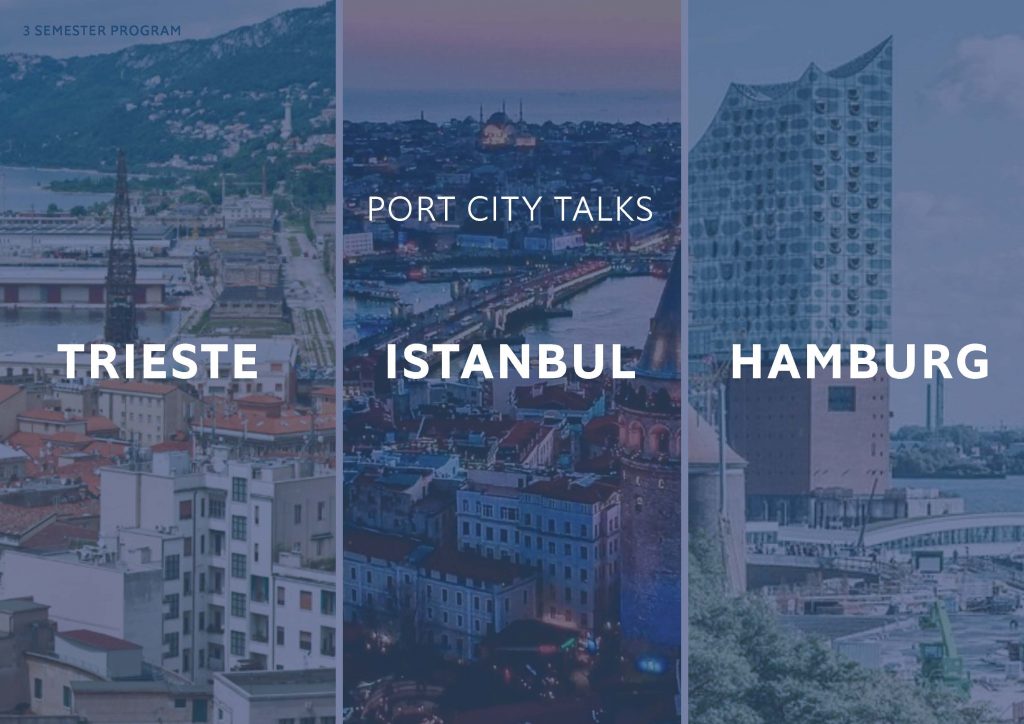 THREE CITIES
All within the broader context of urban and architectural design studies, main reference point will be three distinctive cities; Hamburg-HafenCity, Istanbul and Trieste – all are port cities in different phases of urban transformation -which are developing on projects with various visions for solving certain urban issues.
We shall be investigating similar and diverse architectural interventions in designing urban facilities, private and public places in balance, resulted in specific urban and social formations.
We shall first focus in the city we live in, Istanbul, one of the oldest continuously inhabited cities in the world, populated since at least 667 B.C., and the Golden Horn that has been the inner harbor with a longstanding legacy of shipbuilding and repairs. Recently docks (Tersane) under transformation into a waterside urban development, claiming public-space and cultural capacity. KHAS campus itself being a successful example of re-use is one of the initiators of the contemporary transformation process.
Istanbul sessions will be mainly led by Levent Erden & announced professionals from Turkey, and the program is conducted by Murat Tabanlıoğlu.
Consequently, Hafencity-Hamburg Urban Regeneration Project –already created a new center reflecting the strong port character and simultaneously continuing its port functions – one of Europe's prime logistics centers and the world's largest and busiest sea ports- will enable us to analyze the place and especially significance of planning hierarchy. As aging post-war spaces urgently need upgrading, but also offering great potential for contemporary urban development, in order to counter the dynamic of Hamburg, large urban development projects such as HafenCity or the "Leap across the Elbe" mark important areas of inner urban development; project is still expanding.
The related sessions will be led by Olaf Bartels with the contributions of HafenCity University and the Hamburg Authority for Urban Development and Housing (BSW).
Another historic city, Trieste, recently rethinking how mobility in the Italian port city works, in order to increase the quality of life, enhance the cultural resources, valorize buildings and public spaces, protect the environmental system, stimulate economic development. Accordingly the public is set to play a key role in shaping what happens. Evaluation approaches, the governance of urban-regeneration operations and identification of an effective network in planning and design strategies, the case of Trieste, at its initial phase, will be discussed in guidance of Paolo Belloni– Professor in Architecture and Landscape Architecture in the Polytechnic of Milan, and Michael Schluder of Schluder Architekten Wien.
MODULE 1
---
PORT CITY DIALOGUES
---
ISTANBUL
TRIESTE
HAMBURG

STUDY TOUR TO SELECTED CITIES
MAIN TOPICS
CULTURAL & CRITICAL HISTORIES
ARCHITECTURE & URBANISM
ARCHITECTURE & TRANSFORMATION
SUB TOPICS
MASTERPLANING STUDIES
URBAN BETTERMENT


---
SEMINAR + EXHIBITION
MODULE 2
---
TRANSFORMING MEMORY
---
ISTANBUL
TRIESTE
HAMBURG


MAIN TOPICS
ARCHITECTURE & URBANISM
EMERGENT TECHNOLOGIES
SUSTAINABLE ENVIRONMENTAL DESIGN
SUB TOPICS
POST-PANDEMIC HOUSING DESIGN
RETAIL DESIGN
CULTURE BUILDINGS

---
SEMINAR + EXHIBITION
MODULE 3
---
EXHIBITING NARRATIVES
---
ISTANBUL
TRIESTE
HAMBURG
STUDY TOURS TO SELECTED MUSEUMS & EXHIBITIONS
MAIN TOPICS
COMMUNICATION & MEDIA STUDIES
INTERSECTING ART & DESIGN
CURATORIAL STUDIES
SUB TOPICS
CULTURE BUILDINGS
EXHIBITION DESIGN
ARCHITECTURAL PUBLICATIONS

---
BOOK + EXHIBITION